McDowell Mountain Music Festival is one of our favorites in the SW region. It's a small festival with a big heart – and this year, they're blowing it out of the water with their lineup. We've picked out a few reasons to head over to sunny Phoenix, AZ next Spring!
THE CAUSE
First and foremost, MMMF is Arizona's only 100% non-profit music festival. Isn't that incredible?! Now in its 13th year, they continue to send proceeds to the Phoenix Children's Hospital Foundation and the UMOM New Day Center. The Phoenix Children's hospital has become one of the leading children's hospitals in the country and currently boasts 70 pediatric subspecialties. That makes it one of the most prestigious as well. The UMOM New Day Center is helping the homeless everyday. UMOM provides safe shelter, housing and supportive services to help many reach their full potential. Your ticket helps bring awesome music and awareness to great causes. Do it for karma!
THAT LINEUP THOUGH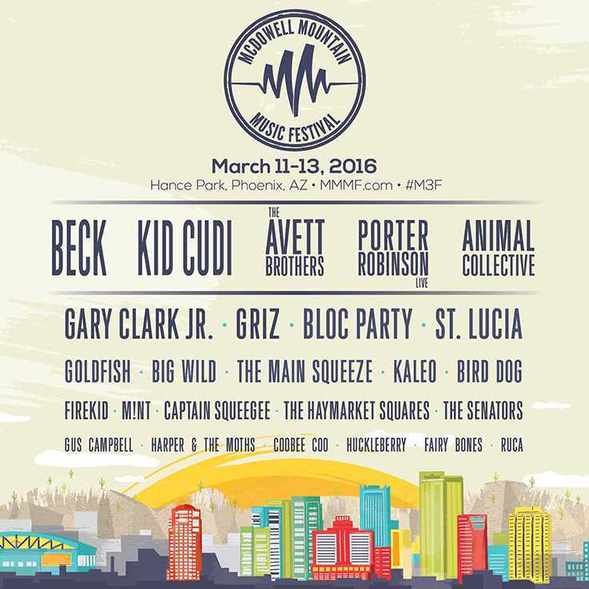 The diverse MMMF lineup has something for everyone. Plan your trip to Phoenix now because you can't miss some of our favorites including Beck, The Avett Brothers, or Porter Robinson.
Beck's original sound is one of the many reasons his fans love him. His spin on pop music has earned him an Album of the Year Grammy win over the likes of Sam Smith, Beyonce, Pharell and Ed Sheeran. We cant wait to hear his hits, like this one, live in March.
The Avett Brothers are legendary rockers. They're coming all the way from North Carolina to bring their signature sound that blends North Carolina mountain bluegrass with a healthy dose of folk, hip-hop, punk and classic rock mixed in. Come for the hits and stay for their stage antics and parade of instruments.
Porter Robinson is another North Carolina native who brings an unforgettable light show and an EDM edge to the lineup. After producing hit after hit like produces hit after hit like "Flicker," "Easy," and "Language," it's not wonder this 23 year old artist won MTVu's Artist of the Year Award this past March. Don't forget your dancing shoes!

LOCATION, LOCATION, LOCATION
MMMF is hosted in in the beautiful Margaret T. Hance Park in downtown Phoenix. This festival only has two stages one main stage and one local one to showcase the homegrown talent. You'll be able to hop from one set to the next, catch your favorites and discover even more with no problem!
Stay tuned for more lineup announces and grab your tickets now!
https://mmmf.frontgatetickets.com